Industrial Design
PINK EVOLUTION PATENT:
complete design of race bicycle; drawings for patent of new hubs and plans for the construction of the prototype.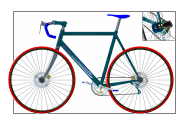 COLLIER:
project and virtual realization of the specifications for aesthetic evaluation. Through rapid prototyping (FMD) and moulding waste wax, realization of the end product (in collaboration with the company F.lli FUREGATO s.n.c.).